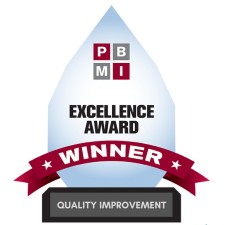 MIRA LOMA, Calif., March 6, 2019 (Newswire.com) - Bridgecom, along with industry partner DST Health, received an Excellence Award for Quality Improvement during Pharmacy Benefit Management Institute's (PBMI) National Conference, held earlier this week. Bridgecom is a premier leader in Medicare/Medicaid member communications and has worked with DST Health since 2015. Both companies have made tremendous efforts to continuously improve member experience and outcomes, while reducing compliance risks and optimizing the cost of program administration.
The Excellence Award recognizes the joint efforts Bridgecom and DST Health, who successfully optimized workflow operations, in order to lower costs and ensure an improved member experience. The two companies successfully partnered with the goal of increasing the efficiency of the DMR letter process, creating a better member experience, eliminating data latency through cycle time improvement and generating cost savings. With these shared goals, the healthcare business partners were able to accomplish significant goals, including:
· Reducing Postage Costs by $29,000 per year
· Reducing Cycle Time by 66%
· Reducing Mail Volumes by 31%
· Eliminating Preexisting Direct Support Costs - saving $13,000 per year
· Eliminating Process Steps - saving $10,400 per year
· Eliminated Maintenance Fees - saving $28,100 per year
· Consolidated tools - saving $10,400 per year
PBMI is dedicated to recognizing organizations for their contributions in promoting innovative and best-in-class strategies that address cost challenges of prescription drug management. Both Bridgecom and DST Health are proud industry partners of PBMI, and are committed to staying on top of the dynamic changes in the pharmacy benefit management industry.
About Bridgecom
As a healthcare technology solutions and business process outsourcing company, Bridgecom provides clients with access to our proprietary technology, BridgeSuite™, along with a state of the art high-speed print and mail fulfillment production facility. Our innovative technologies help businesses manage their essential member and customer communications, providing cost-savings and improved results. Bridgecom's unique blend of technology and patented processes improve patient outcomes and dramatically reduce costs. Visit bridgecomsolutions.com.
Media Contact:
Lesley Bellows
951-361-7326
​marketing@bridgecomsolutions.com
Source: Bridgecom
Share: